Time : 2022-05-11
Long-Term Evolution (LTE) is a wireless broadcast communication standard for mobile devices and data ports based on GSM/EDGE and UMTS/HSPA technologies. The standard was developed by 3GPP (3rd Generation Partnership Project) and intended as a GSM/aims to provide a path for the upgrade of GSM/UMTS networks and CDMA2000 networks.
The following are the 3GPP-based advanced requirements for LTE:
Flexibility to use existing and new frequency bands
Simplified architecture, open interface
Allows reasonable port power consumption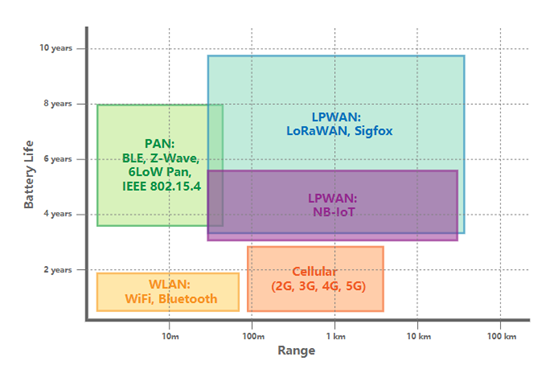 When deploying a wireless communication system, spectrum resources need to be considered first. The two major international standardization organizations, 3GPP and ITU-T, both divide the LTE spectrum.
The International Telecommunication Union (ITU) conducted extensive research on frequency bands and in 2007 allocated candidate frequency bands for the deployment of fourth-generation communication systems. Relevant international and national standardization organizations have also carried out corresponding interference coexistence studies to prepare for the deployment of the fourth-generation communication system.
At the ITU-R WRC2007 conference, ITU identified 450-470MHz, 790-806MHz, 2300-2400MHz, a total of 136MHz for global IMT, and some countries can specify UHF (Ultra High Frequency) above 698MHz Frequency band, and 3400 – 3600MHz frequency band for IMT.
3GPP is one of the standardization organizations in the communication industry, formulating LTE/LTE-A related standards and applying to ITU for LTE/LTE-A as a candidate standard for IMT/IMT-A. After the operator obtains the frequency resource, it will put forward the standardization requirements of the radio frequency related equipment in 3GPP. 3GPP RAN4 is responsible for conducting research on radio frequency indicators of various frequency bands, and formulating and revising radio frequency standardization documents.
Today, we will introduce the 3GPP Spectrum Bands.
Currently, the frequency band requirements proposed by various operators are shown in Table 1. Among them, frequency bands 1 to 25 are LTE FDD frequency bands, and frequency bands 33 to 43 are TD-LTE frequency bands.
LTE concept
The LTE system introduces key transmission technologies such as OFDM (Orthogonal Frequency Division Multiplexing) and MIMO (Multi-Input & Multi-Output), which significantly increases the spectral efficiency and data transmission rate (20M Bandwidth 2X2MIMO In the case of 64QAM, the theoretical maximum downlink transmission rate is 201Mbps, and it is about 140Mbps after deducting signaling overhead.
However, according to the actual networking and terminal capability limitations, it is generally considered that the downlink peak rate is 100Mbps, and the uplink is 50Mbps), and supports multiple various bandwidth allocations: 1.4MHz, 3MHz, 5MHz, 10MHz, 15MHz and 20MHz, etc., and support the global mainstream 2G/3G frequency bands and some new frequency bands, so the spectrum allocation is more flexible, and the system capacity and coverage are also significantly improved.
The network architecture of the LTE system is flatter and simpler, which reduces the network nodes and the complexity of systems, thereby reducing system delay and the cost of network deployment and maintenance.
The LTE system supports interoperability with other 3GPP systems.
There are two types of LTE systems: FDD-LTE and TDD-LTE, namely frequency division duplex LTE system and time division duplex LTE system. The main difference between the two technologies lies in the physical layer of the air interface (such as frame structure, time division design, synchronization etc.).
The uplink and downlink transmission of the FDD-LTE system uses a pair of symmetrical frequency bands to receive and transmit data, while the uplink and downlink of the TDD-LTE system use the same frequency band to transmit on different time slots. Compared with the FDD duplex mode, TDD has higher spectrum utilization.
LTE system structure
LTE adopts a single-layer structure composed of eNBs, which is beneficial to simplify the network and reduce the delay, and realize the requirements of low latency, low complexity and low cost. Compared with 3G access network, LTE reduces RNC nodes. Nominally LTE is the evolution of 3G, but in fact it has made revolutionary changes to the entire system architecture of 3GPP, gradually approaching the typical IP broadband network structure.
The LTE architecture is also called the E-UTRAN architecture. E-UTRAN is mainly composed of eNBs. Compared with UTRAN network, eNB not only has the function of Node B, but also can complete most functions of RNC, including physical layer, MAC layer, RRC, scheduling, access control, bearer control, access mobility management and Inter-cell RRM etc.