Time : 2023-03-02
Since the development of RF circulators and isolators, there are a variety of installation methods to choose from, such as coaxial, drop-in, surface mount, microstrip, waveguide and so on. This article will focus on the differences between coaxial, drop-in and surface mount type mainly.
Different Connector Types/Installation Methods:
The main coaxial connectors are SMA, N, 2.92mm, 7/16, etc.
SMA connector could support high frequency band, for example: UIYCC1318A, UIYCI1318A
型号:UIYCI1318A23T25SF 23.0 ~ 25.0GHz 0.5 20 1.25 30W/5W SMA-F -40 ~ +85°C
          UIYCI1318A24T26KF 24.0 ~ 26.0GHz 0.5 20 1.25 30W/5W 2.92mm-F -40 ~ +85°C
N connectors are usually applied to 200W or above products, for example UIYCC6060A
Power comparison and connector choice as follow:
UIYCC6060A87T108NFP200 87 ~ 108MHz 0.6 20 1.25 200W N-F -20 ~ +65°C
UIYCC6060A80T120SF 80 ~ 120 MHz 1.0 18 1.3 100W SMA-F 0 ~ +65°C
7/16 connector is able to support much higher power like 1kW, 2kW, 3kW,5kW etc.
UIYCC120140A  100~200MHz 2%     0.4   23    1.2   PkW10KW/ CW 1KW    7/16  0~+85°C
UIYCC104110A 2000~4000MHz 10%  0.4   18    1.3   PkW30KW/ CW 3KW  7/16 -55~+85°C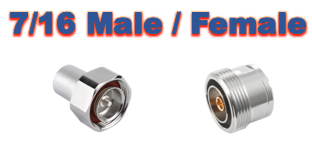 Other coaxial connectors as:
2.4mm, to 50GHz
3.5mm, to 34GHz
BNC: up to 6GHz(Among them, 2GHz, 3GHz and 4GHz are more commonly used)
SMA up to 24GHz
2.92mm up to 40GHz
While SMA, 2.92mm and 3.5mm are compatible with each other

Coaxial products are easy to connect, and the spiral design can directly correspond to the same type of connector, such as Female to Male. It is required to confirm the Female or Male connector type before placing an order.
The drop-in type and surface mount type need to design PCB board before installation.
The samples can be soldered by hand.
In mass product, the reflow soldering can be used in Surface Mount products.
Product size comparison:
The size of the surface mount product is relatively small, and it is designed according to the operating frequency and power.
Take 12mm circulator for example, the correspondent models are:
UIYSC12A, UIYSI12A         0.7~10.0GHz 20%
UIYDC1212B, UIYDI1212B    0.7~10.0 GHz 30%
 Model comparison, similar size, frequency band, RF performances etc.:
UIYDC1212B5T6 5000 ~ 6000 0.4 19 1.25 60W TAB -40 ~ +85°C
UIYSC12A5T6 5000 ~ 6000 0.4 19 1.25 30W SMT -40 ~ +85°C
Mechanical diagram:
                       UIYSC12A                                                     UIYDC1212B
5~6GHz Coaxial Circulator UIYCC1522A5T6SF
RF performances: 5.0 ~ 6.0GHz 0.4 20 1.25 60W SMA-F -40 ~ +85°C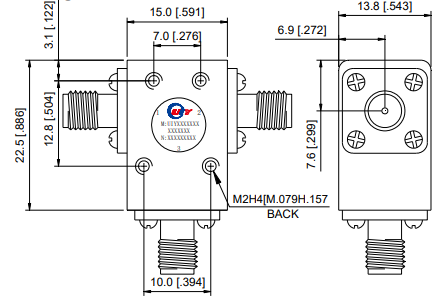 5~6GHz Coaxial Circulator UIYCC2525A5T6NF
RF performances: 5.0 ~ 6.0GHz 0.4 20 1.25 300W N-F -20 ~ +70°C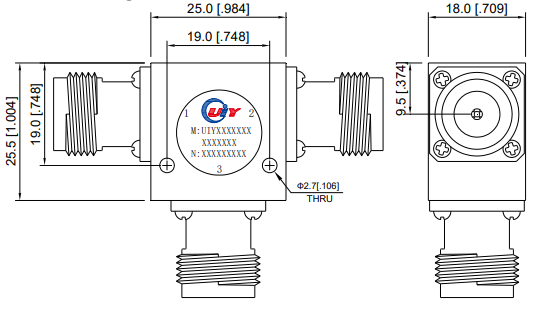 Other comparisons:
SMT TYPE: UIYSC7A 2.4~6.0GHz 15%  0.35 20 1.22 15W  SMT -40~+105°C Φ7×5.5
SMT TYPE: UIYSC10A 2.4~6.0GHz 20% 0.3 21 1.2 30W SMT -40~+85°C  Φ9.8×7
SMT TYPE: UIYSC9B 4.8~12.0GHz 18% 0.4 20 1.25 30W SMT -40~+85°C  Φ9×6.5
DROP IN TYPE: UIYDC815A 5.0~25.0GHz 40% 0.3 23 1.2 65W TAB -55~+85°C      8.9×15×7.8
Covering Bands Comparison:
Coaxial Series 10MHz to 40GHz, CW up to 3kw
Drop in Series 10MHz to 40GHz, CW up to 2kW
SMT Series 200MHz to 15GHz, CW up to 200W

In the future, we will introduce microstrip and waveguide circulators isolators, so stay tuned.