Time : 2023-04-12
The 10th World Radar Expo 2023 is unveiled at Beijing Shougang Convention and Exhibition Center from April 13th to 15th. Themed by "Radar Integrates the World, Digital Intelligence Leads the Future", it is co-sponsored by China Radar Industry Association, China Electronics Technology Group Co., Ltd.
During the 10th World Radar Expo 2023, the 3rd "Radar and the Future" Global Summit 2023 is held at the same time. Meanwhile, a series of supporting activities will be created innovatively, with diversified activities such as special forums, industry docking, industry competitions, and achievement releases etc. The integrated development of production, learning, research, application, and finance forms an all-factor industry ecology that uses convergence, promotes production through exhibition, and flexibly utilizes production.
"The World Radar Expo" is the only national, professional and international radar industry exhibition in China. Since 2001, it has been held every two years. After more than 20 years of accumulation and growth, the industry leadership, industry driving force, and international influence of the World Radar Expo have been increasing year by year. The exhibits cover military radar and civilian radar-related equipment for aerospace, aviation, ships, detection, meteorology, and rescue. It has become a comprehensive communication platform integrating technology foresight of global radar industry, industry driving, and technological innovation.
UIY Booth No.: 2B28
Exhibition time:  13~15th., 2023  9:00—17:00
Exhibition location: Beijing Shougang Convention and Exhibition Center
No. 68, Shijingshan Road, Shijingshan District, Beijing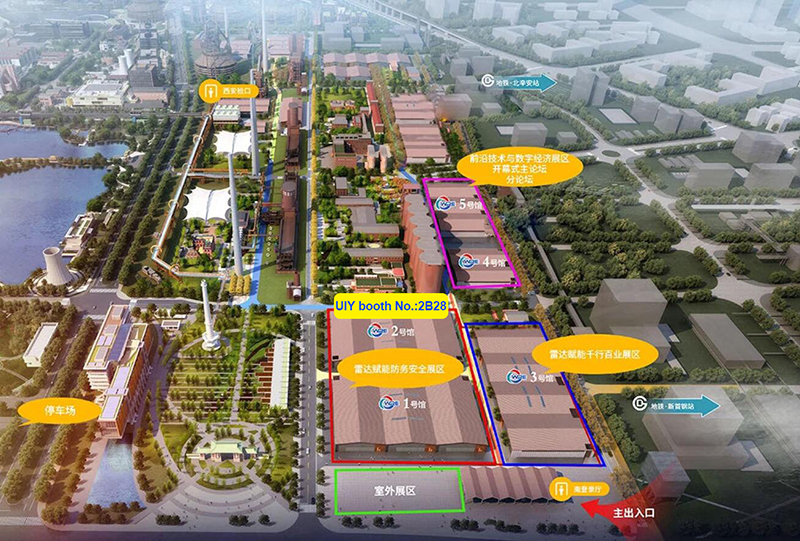 Traffic routes:
Subway: Get off at "Xin Shougang" Station on Line 11, walk westward for 5 minutes to the exhibition hall ( The "Jin'anqiao Station" on Line 6 is a transfer spot to Line 11)
Bus: Shougang Experimental Factory Station Bus No. 992,
Special No. 108
(Visitors who get off at Shougang Experimental Factory are recommended to enter the venue from the south gate)
By driving or Taxi: Navigate to the south gate of "Shougang Park"