Time : 2020-05-09
A Circulator is a multi-port device that passes incident waves entering any one of its ports into the next port in the order determined by the static bias magnetic field. It is a non-reversible device with several ends. Its remarkable feature is that it can transmit high-frequency signal energy in one direction, and it is divided into micro-optical fiber and electronic Circulator. It has good applications in isolator, duplexer and reflection amplifier.
The outstanding feature of the Circulator is the unidirectional transmission of high-frequency signal energy. It controls the transmission of electromagnetic waves in a certain circulatory direction. It is generally used between the output of the high-frequency power amplifier and the load. The load impedance does not affect the working state of the power amplifier when it changes or even opens or shorts, thereby protecting the power amplifier. The Circulator has the characteristics of small size, frequency bandwidth, and small insertion loss. Therefore, it is widely used. It can be used in radar / communication systems to isolate the receiving / transmitting signals from each other.
---
Due to the diversity of spec, we are unable to display all products.
If you have any parameter questions about frequency, power, insertion loss etc, pls feel free to contact us directly.
Tel: +86-755-83748888
+86-755-25999990
Fax: +86-755-25999959
Mail: sales@uiy.com sales@uiy.com.cn
---
Common 10MHz-3600MHz low frequency circulator recommended:
Model parameters 

Forward Power: 50W

Freq.Range: 

10-55MHz

Reverse Power: 50W

IL.: 

1.2dB

Connector Type: TAB

Isolation: 20dB

Temp.: +10~+60°C

VSWR: 1.25

Dimension LxWxH: 80×80×28mm
 Product Picture 

 RF Characteristics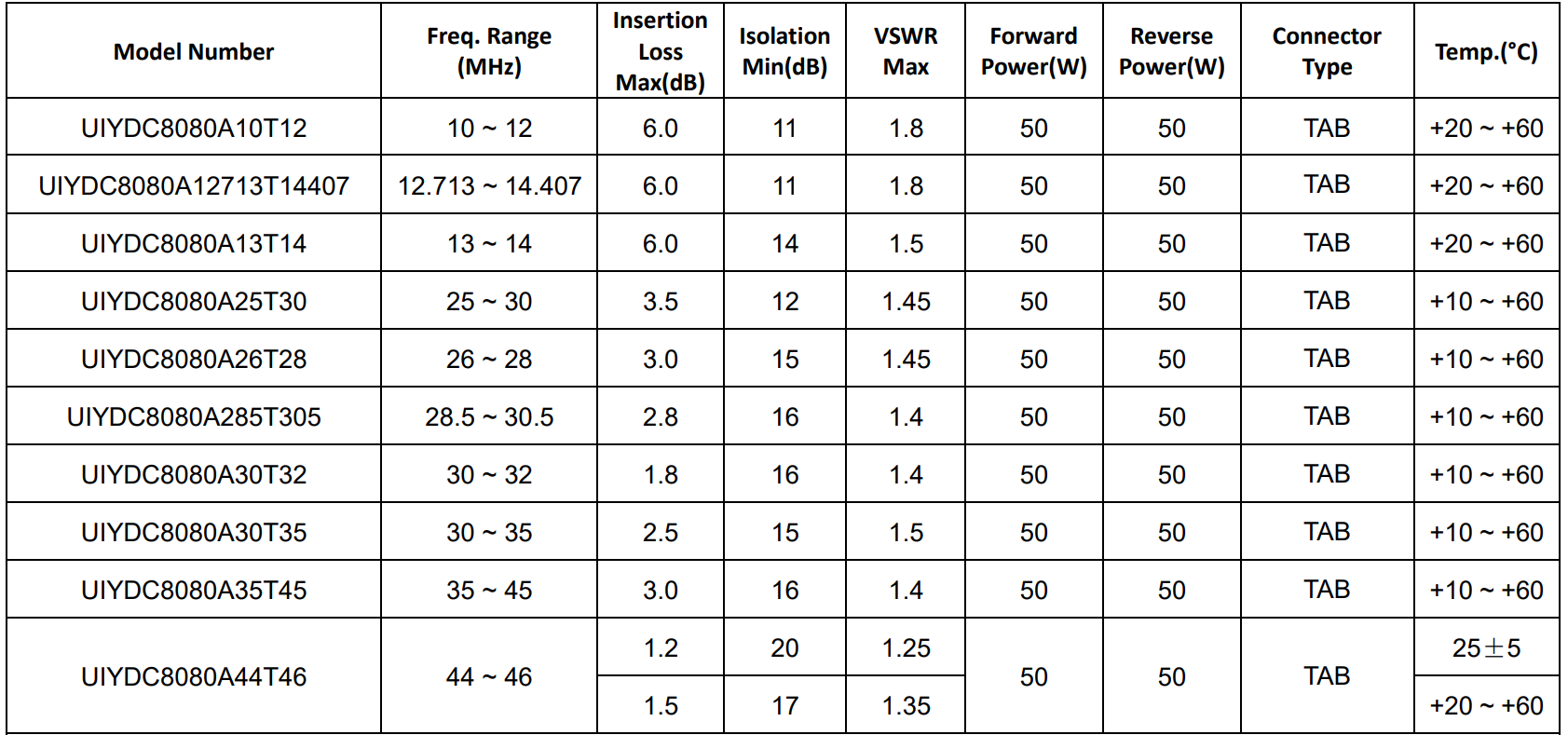 Mechanical Drawing 
| | |
| --- | --- |
| Model parameters  | Forward Power: 200W |
| Freq.Range: 45-270MHz | Reverse Power: 200W |
| IL.: 0.5dB | Connector Type: TAB |
| Isolation: 25dB | Temp.: +30~+70°C |
| VSWR: 1.15 | Dimension LxWxH: 60×60×28mm |
 Product Picture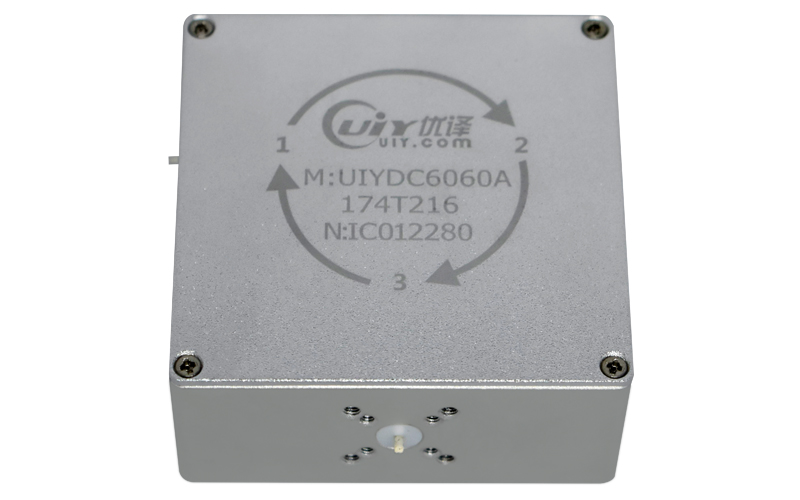 RF Characteristics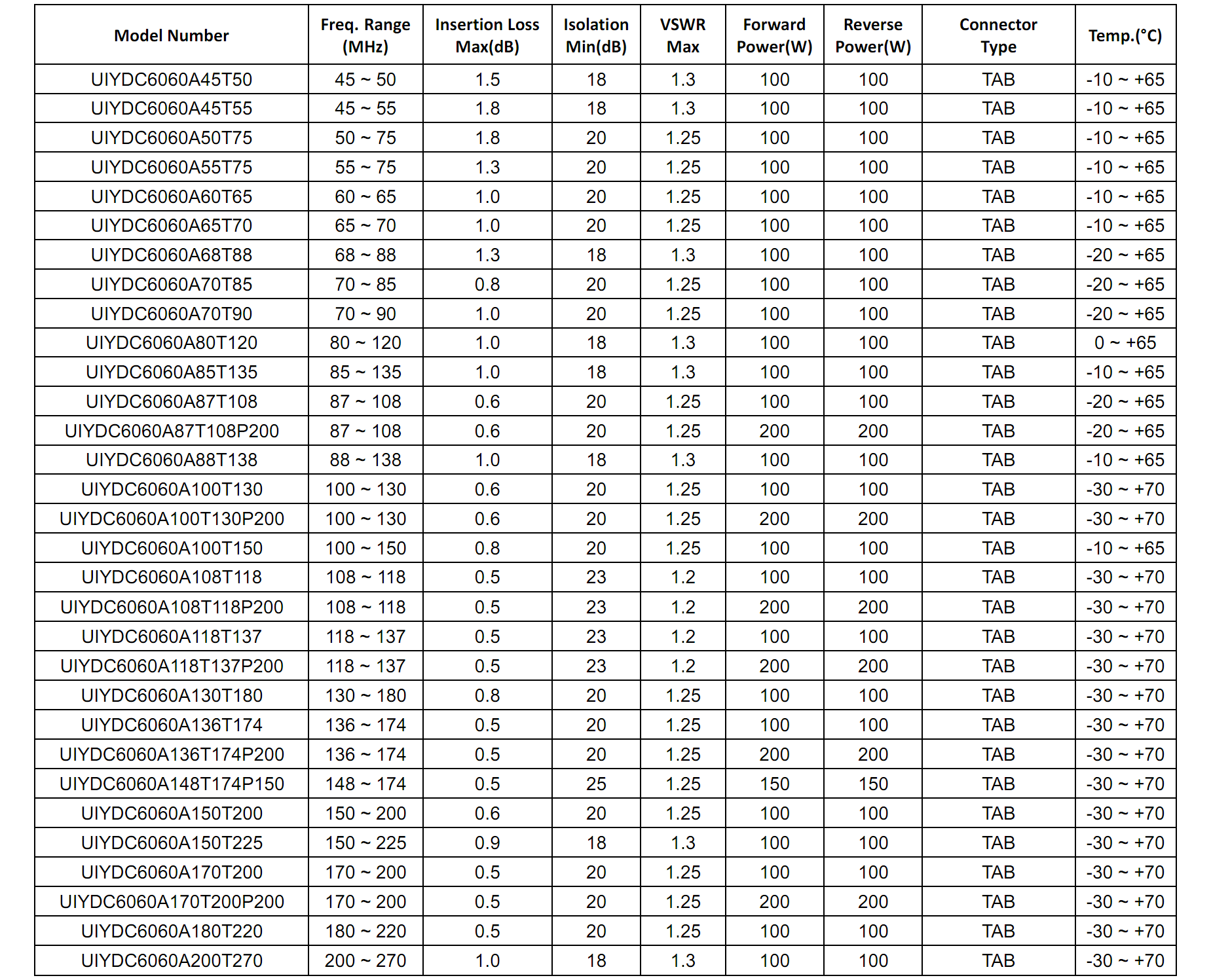 Mechanical Drawing 

| | |
| --- | --- |
| Model parameters  | Forward Power: 300W |
| Freq.Range: 200-1875MHz | Reverse Power: 300W |
| IL.: 0.5dB | Connector Type: TAB |
| Isolation: 30dB | Temp.: +40~+85°C |
| VSWR: 1.15 | Dimension LxWxH: 35×38×11mm |
 Product Picture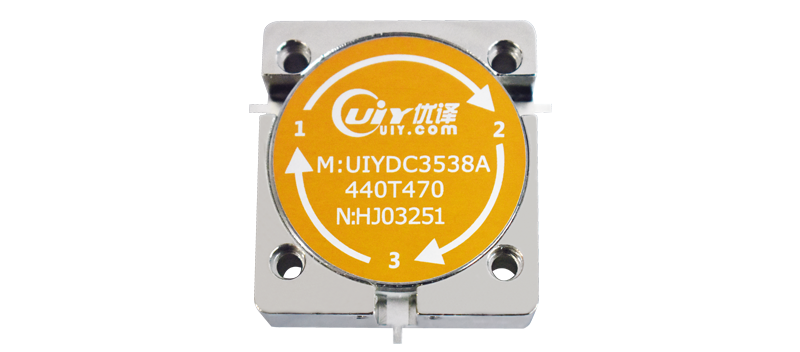 RF Characteristics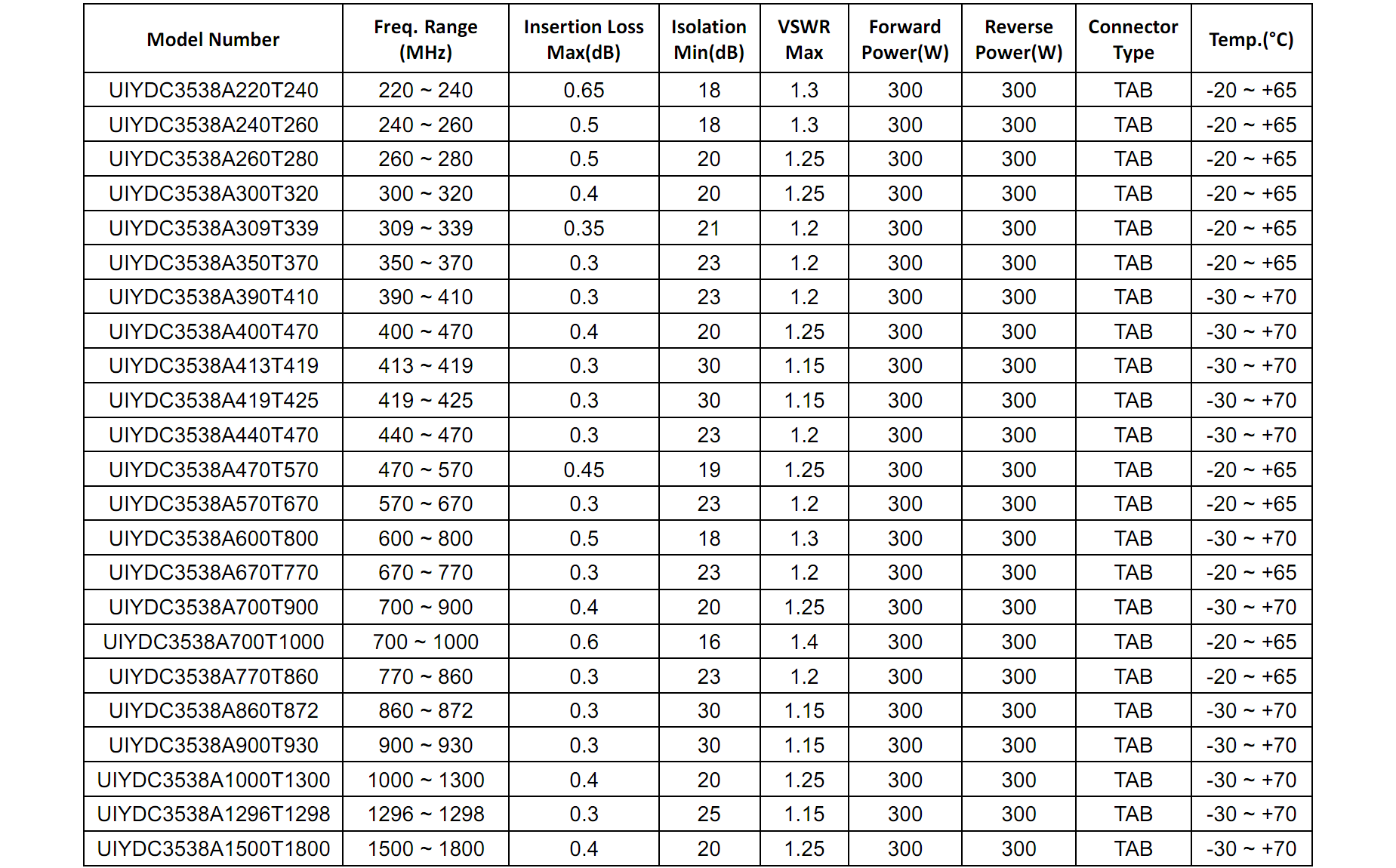 Mechanical Drawing 

| | |
| --- | --- |
| Model parameters  | Forward Power: 500W |
| Freq.Range: 300-1500MHz | Reverse Power: 500W |
| IL.: 0.3dB | Connector Type: TAB |
| Isolation: 23dB | Temp.: +40~+85°C |
| VSWR: 1.2 | Dimension LxWxH: 53×56×20mm |
 Product Picture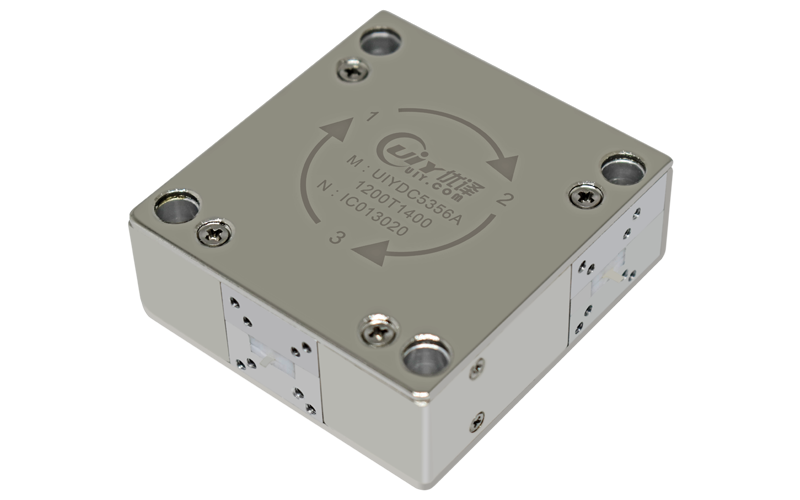 RF Characteristics 

 Mechanical Drawing